Champ vs. Legend
In mid-2016, Top Rank Boxing was faced with an interesting, albeit challenging, business opportunity.

World-renowned boxer and recently elected senator in the Philippines, Manny Pacquiao, decided to formally end his brief retirement from the ring, agreeing to fight champion Jessie Vargas for the WBO welterweight title on November 5th.

The only issue: HBO, Pacquiao's longtime broadcaster, declined to be involved due to a prior commitment. Knowing that senator Pacquiao was only available for the 5th, legendary fight promoter and Top Rank CEO, Bob Arum, wasn't quite sure what to do.

Ultimately, he decided to take a gamble and distribute the pay-per-view event on his own. The fight would go on as planned.

As Top Rank's digital agency, our team at VaynerMedia got to work on a plan, building out the storytelling elements around the event. If successful, we would essentially help prove the viability of a new direct-to-consumer pay-per-view model.
There were a lot of great storytelling angles—Senator Pacquiao, Manny's return to the ring, the 11-year age difference, a world title on the line—wrapped up in the fight, so we elected to start there. Both fighters had a passionate fan base we sought to leverage.

We assigned branded color schemes and hashtags to each, playing up the #TeamChamp vs. #TeamLegend angle, openly asking fans whose corner they were in. This polarizing content performed so well that it led to other fan-centric creative decisions.
Knowing the intention was for our team to live-tweet the main event and all undercard bouts on fight night, we decided to empower fans to be our "4th judge." Throughout the night, we would tweet polls asking fans who they thought was winning.
Also, because of the inside access Top Rank had to each fighter and team leading up to the event, we proposed capturing and portraying some of these stories in video form, producing a documentary-style miniseries. I wrote all 10 scripts for the series.
The week before the event, I was on the ground of the Wynn hotel in Las Vegas, capturing and creating social content from behind the scenes (especially for Snapchat). Our team had access to the red carpet when the fighters first arrived at the hotel, as well as all press conferences, interviews, and closed training events, as well as the much-hyped weigh-in.

On fight night, our VaynerMedia team sat ringside at the event, tweeting copy and sharing key visual moments from all twelve rounds of the #PacVargas fight, as well as the undercard bouts that preceded. In the end, Manny Pacquiao reigned supreme.
As for the success of the event, it appeared as though Bob Arum's gamble had really paid off. The fight sold around 300,000 pay-per-view buys, which was on par with the numbers from Manny Pacquiao's last fight, produced and distributed by HBO.

"So if it did about the same as that fight, why do I need HBO to be involved? Why do I have to pay them a percentage when we can do the same thing on our own?" Arum said. Later, he revealed that Top Rank would continue handling PPV events on its own.
Press mentions:

ESPN
The Washington Post
Los Angeles Times
Emoji Science
In 2014, GE tasked our team at VaynerMedia with the objective of making science more accessible to millennials through social media. After much deliberation, we decided to harness one of the most basic forms of communication ever invented: emoji.

The 'Emoji Table of Experiments' was born.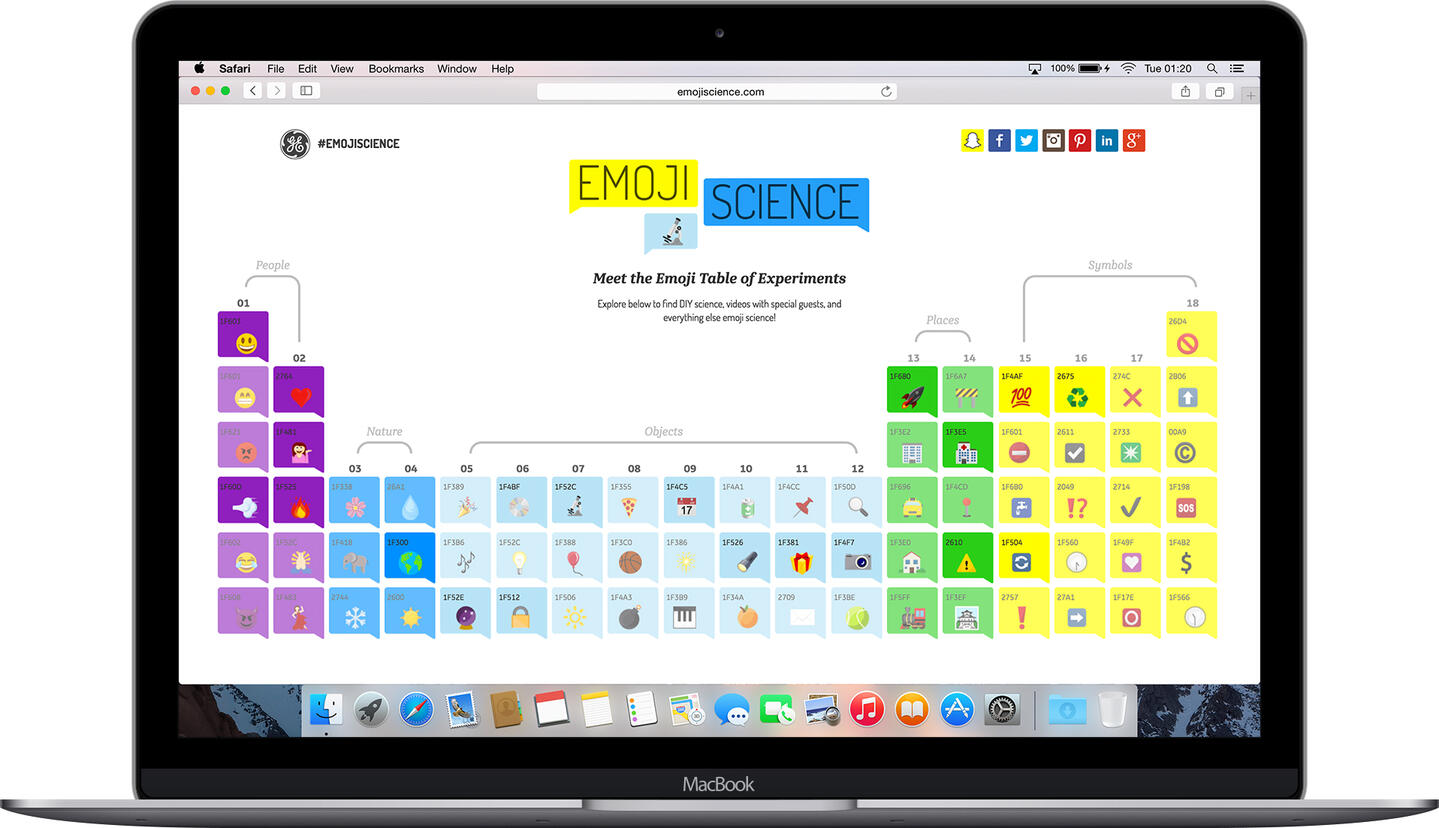 The idea was fairly simple: Create an 'emoji science' lab in which fans could interact with the brand on social media by sending in their favorite emoji. In exchange, they would receive a corresponding science experiment video in return.

We elected to utilize Snapchat (which was hugely popular amongst millennials at the time) to facilitate these engagements, and the star of the show was none other than Bill Nye The Science Guy.
Operating out of an NYU chemistry lab over a 4-day weekend, we got to work bringing this idea to life.

I led the charge on Snapchat, since I was the person who ran GE's presence on the platform day-to-day. My responsibilities included building out processes for efficiently capturing, logging, and returning snaps featuring science experiments and emoji, as well as capturing live, behind-the-scenes content and writing social concepts and copy in support of the campaign.

The activation was a success, and GE's brand presence was amplified by a Bill Nye video that went viral, receiving over 1.5 million organic views on YouTube and becoming a top trend on Facebook that day (Note: I'm the bearded gentleman in the back left):
The program performed so well that GE decided to turn it into a year-long initiative in 2015. In the process, we helped create an expanded Bill Nye video series, an interactive Tumblr page, and downloadable Emoji Science lesson plans for teachers in partnership with the National Science Foundation.

Meanwhile, I crafted concepts for engaging Emoji Science content for GE's social channels, leveraging platform nuances during Breast Cancer Awareness Month in intelligent ways, as well as capitalizing on low-hanging opportunities like Summer Solstice, Star Wars' "May the 4th," and World Emoji Day.
In the end, Emoji Science became some of GE's highest performing social content ever, out-engaging average Facebook and Twitter posts by 40% and earning more than 35 million total impressions throughout 2015.

We also drove more than 3.5 million organic video views on the Bill Nye video series, and created GE's most replied tweet in account history during World Emoji Day. The Emoji Science Snapchat geo-filter we created for Summer Solstice was used by over 4.8 million people and totaled more than 63 million views as well.

The Emoji Science initiatives we orchestrated led to an estimated 2.4 billion earned media impressions combined, making science accessible to everyone, not just millennials, using one of the simplest forms of communication available today.

🔬😍
Press mentions:

Fast Company
Business Insider
Digiday
CNET
Tech Times
NY Daily News
Drone Week
In the summer of 2015, GE approached VaynerMedia and its other partner agencies with a challenge. The ask was to bring fans of science and technology inside GE's various manufacturing facilities in a way that was both innovative and engaging.

The Barbarian Group brought the winning idea to the table by suggesting the usage of drones, which eventually took shape as a 5-day live-streaming event called Drone Week. As GE's social media agency of record, we suggested using Periscope to execute.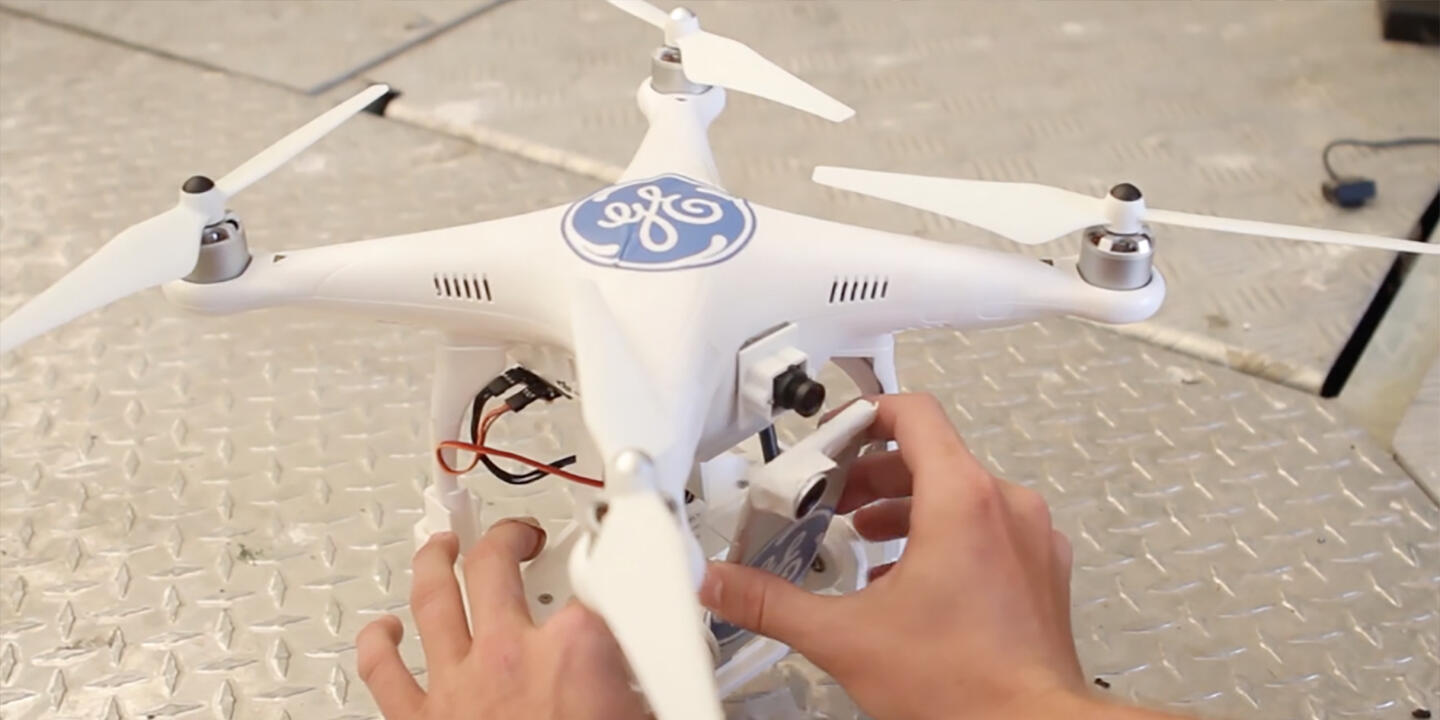 The event was to take place in 5 different US cities—Houston, Peebles, Tehachapi, Fort Worth, and Greenville—over the span of 5 days, covering GE's Blow-Out-Preventer, jet engine, locomotive, wind farm, and power and water facilities.
I, along with the rest of the creative team, got to work on conceptualizing social content and messaging. While limited in terms of creative assets for this project, the most engaging method we found to communicate the event was through simple animation.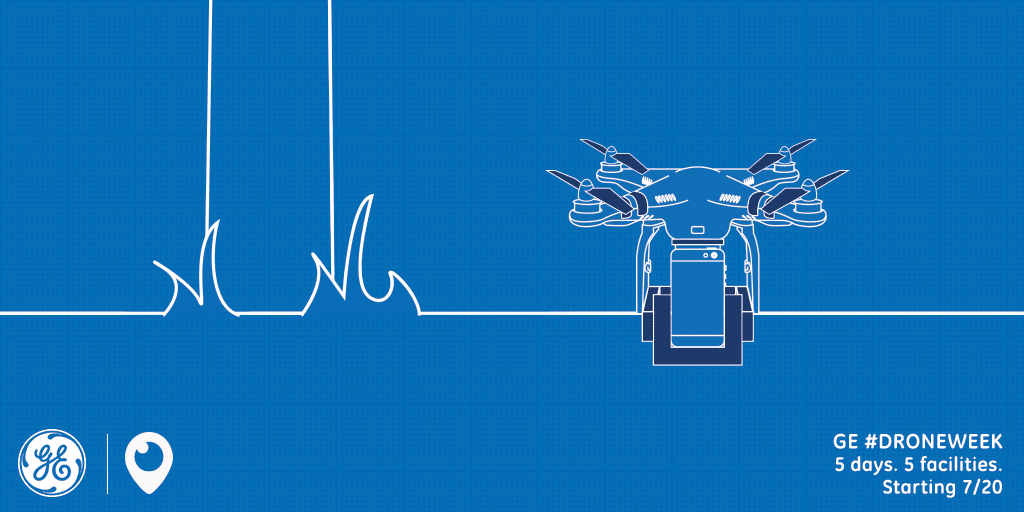 Borrowing from previous lessons involving Periscope engagements with GE, including our NFL Draft Science campaign, we determined that the best course of action would be to stream each event on GE's main account but create a second handle to engage the audience directly in-feed. I secured a Twitter/Periscope account called "@GEDronePilot" for just such a thing.

During the week of the activation, I traveled through 9 airports in 8 days, visiting 4 of the 5 facilities. Dawning a GE branded hardhat and goggles, I executed the majority of the brand's live-streams. This required a lot of technical troubleshooting, as well as on-the-fly (pun definitely intended) creativity, as I engaged fans one-on-one and fed them tidbits of information in-stream.

When the activation concluded, we gathered up the footage and stats from each location and repurposed it on YouTube.
Overall, the campaign was a success, generating earned media mentions and positive sentiment across the wider GE community. The brand elected to pick it back up the next two years, though by then I had graduated to a different team internally.
Press mentions:

Fast Company
AdAge
Digiday
GeekWire
brandchannel
Spring Break It
In early 2014, our clients at GE tasked us (VaynerMedia) to come up with a fun activation for spring. Specifically, they wanted us to focus on communicating GE's advanced work in materials science, developing super materials for its various technologies.

Understanding the innovative work being done in terms of integrating advanced materials into its jet engines, wind turbines, etc., we saw an opportunity in terms of the rigorous testing these materials underwent at facilities operated by GE.

So, we decided our best course of action would be to leverage Spring Break to "test" (or rather, break) everyday things.

Like many of our campaigns, execution relied heavily on direct one-on-one engagement with members of the GE science community. We created a hashtag, #SpringBreakIt, and asked fans to submit requests for everyday objects they would like to see.

These objects would then undergo the same strength testing as any of the super materials at GE. This included a drop test exerting 5,000 pounds of force on an object to see how much energy would be required to make it crack, bend, or break, and a metal-forging test using 100,000 pounds of pressure and extreme heat to see how the properties of materials change.
If a fan tweeted directly at GE using the hashtag, or submitted a request using the crush, smash, or blast buttons on the associated Tumblr page, we would tweet back a video of the everyday object they requested being destroyed at a GE testing facility.

In the first six hours of the campaign alone, our team responded to nearly 250 fan requests, and the #SpringBreakIt hashtag had been mentioned more than 1,000 times, organically. Some of the videos even became popular on Reddit and Imgur.
This campaign was a perfect example of the overall social media content strategy we adopted for GE; we took a cultural event and leveraged its familiarity to simplify complex science and technology, making both more accessible for fans of GE.
Press mentions:

AdAge
Digiday
Brandingmag
The Mary Sue
Heaven Sent
When our Mondelez clients approached us with a new project in Q2 2016, they posed a unique challenge to our VaynerMedia and partner agency teams. Gum sales were down, but the ask wasn't just to boost them; it was to literally save one of their brands.

Over the next few months, along with Wieden + Kennedy, we would help facilitate the digital brand revival of Stride gum, coinciding with a new product launch, brand persona, and content leading up to a major summer campaign.
The only real direction we were given was to tailor our deliverables to teens. As for the brand guidelines, we were given a new purple mouth mascot with which to work along with a new slogan that involved capturing the essence of "mad intensity."

I, along with the rest of the Stride creative team, got to work bringing this mad intense mascot to life. I developed an intensive 3-hour brand voice workshop, which I pitched internally and then led with internal, partner agency, and client teams. Once we aligned on a voice, we hit the ground running, developing content and partnerships in support of the mascot, catering to teens.
This included a complete social rebrand across Facebook, Twitter, Snapchat, and Instagram, as well as an interactive Tumblr page filled with GIFs and other "mad intense" imagery. Content felt random, but embraced Stride's new flavor profiles effectively.

The new Stride rebrand culminated in July, through sponsoring a globally televised stunt called Heaven Sent. Skydiver Luke Aikins became the first person ever to jump from 25,000 feet and land safely without the use of a parachute or wing suit.

The live event was about as mad intense as one could hope for, and it was televised across all major FOX properties.

We developed social content in the same style and voice as we had done previously, only geared at promoting the launch of Heaven Sent. The event itself became headline news, receiving mentions from both leading outlets like CNN and the BBC, as well as digital publishers like Mashable and Buzzfeed. All-in, the stunt generated over 1.5 billion impressions worldwide.
On the day of the event, I was on the ground out in the California desert coordinating behind-the-scenes content used to promote the campaign. This included a Facebook Live interview with Luke, captured just after he had safely landed.
Press mentions:

Fast Company
NPR
CBS News
People
PR Week
The Smilies
In Q3 2016, our Mondelez clients were in search of a new Trident gum campaign from our VaynerMedia team. It being nearly September, and our strategy hinging on seizing moments in pop culture, we proposed capitalizing on award show season.

The catch? There wasn't time or budget available to pursue any sort of "official" sponsorship opportunity.

Our backs against a wall, we decided to work the award show angle anyway, becoming a top unofficial sponsor of the Emmys, while harnessing Trident's "Cherish Your Teeth" messaging. That's how The Smilie Awards initially came to be.

I'm proud to say that I owned this creative concept from start to finish. After checking in with legal, I saw what our realistic path needed to be. We obviously couldn't talk about the Emmys directly, but award shows themselves were generally fair game.

The concept came to fruition: We would create our own award show, utilizing a team of influencer talent that would revolve around two live hosts. We met with influencers and selected our team, starring Arielle Vandenberg and Matt Cutshall as leads.
Myself, along with the rest of the Trident creative team, went to work on creating a surplus of content and scripts that we could utilize during the Emmys. This included a run of show loosely based on the true order of events and award show categories.

We also brought in a handful of models for a photoshoot, capturing different types of smiles we could use as GIFs on Twitter during our live event community managing. We developed several templates we could add copy to on the fly.

Luckily for us, the actual live event gave us a lot of fun opportunities, including host Jimmy Kimmel handing out PB&J sandwiches and hit HBO show Game of Thrones winning several awards, including best drama series.
Having prepared in advance for everything we could to the best of our abilities, this campaign was a huge success in the eyes of our client team. Not only did we execute a live award show of our own making without any on-camera snafus or technical troubleshooting; we helped Trident become part of the live Emmys viewing audience, engaging with the community.

In the end, we rounded up Trident's most engaged fans and sent them each a prize pack, featuring packs of Trident gum and a custom piece of artwork, denoting how they had won their very own Smilie award for participating.
Life's Rich Rivalries
Ahead of football season in Q3 2016, our clients at RITZ Crackers asked us to develop a socially driven campaign. Our goal was to: A) take advantage of the family football snacking scene, and B) promote the existence of RITZ's vast database of snack recipes.

Utilizing the brand's slogan, "Life's Rich," as a starting point, we got to work on capitalizing on this opportunity. The winning concept, which I wrote and pitched, revolved around the competitive aspect of the sport, and was called Life's Rich Rivalries.

Knowing RITZ's target demo at the time was millennial moms, we designated Pinterest as the platform of choice to house the snacking recipes. The plan was to develop a series of recipe pins capitalizing on specific rivalries. While we couldn't legally use the names or colors of actual teams, we were very intentional in our state and ingredient selections to get our point across.

The Pinterest board we created ended up gaining 24,000 followers, with each image earning 1,000 pins apiece (30,000 total).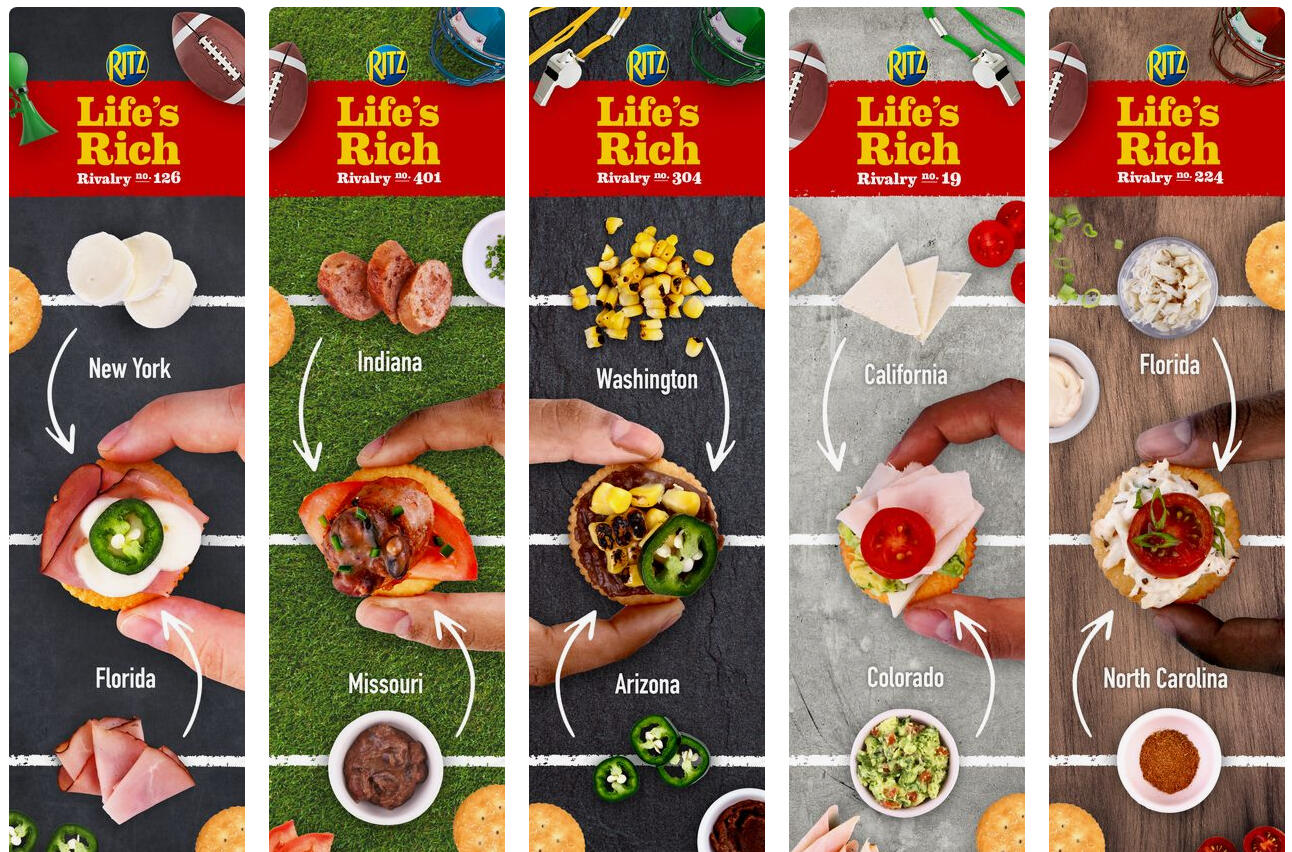 The second component of this campaign involved making a highly produced video, which would be used on Facebook and in YouTube pre-roll ads to drive awareness of the overall effort and campaign. I wrote and pitched the video script.

The idea was to portray two fans of rival teams making competing RITZ recipes from their respective kitchens, shown split-screen. When the camera panned overtop, it would show one of their hands breaking the barrier to combine the recipes.
Having written and helped cast the spot, I was on location during the day of the shoot. I helped direct the talent in terms of understanding their motivation and delivering their lines, and wrote different variations so we had options in editing.
Although originally meant just for social, the video's performance exceeded our clients' expectations, earning 5.6 million views on Facebook alone. Shot like a 15 to 30-second commercial, it ended up airing in parts of the US and Mexico as well.
Trust the Earth
In Q3 2019, the in-house marketing team at Charlotte's Web CBD was tasked with spreading the message of hemp health far and wide. So, we enlisted the help of legendary street artist Shepard Fairey and his team at Studio Number One.

Known for creating Barack Obama's infamous "Hope" poster in 2008, the team felt like a perfect fit for the grassroots effort we were trying to convey. The result was an award-winning first-ever national campaign for Charlotte's Web.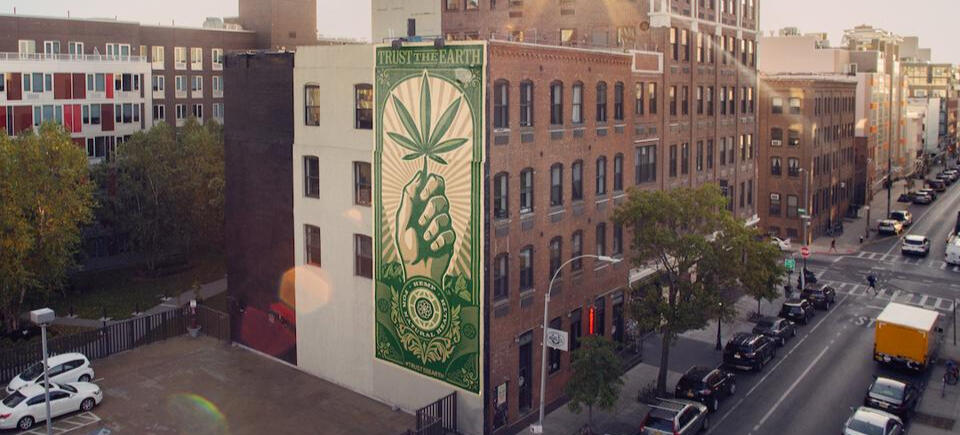 Driving home the "Trust the Earth" message and sparking a movement were more important to the brand than simply boosting sales, so branding was kept to a minimum. At the bottom of the mural was a simple URL pointing to TrustTheEarth.com.

The mural launched in Brooklyn and went on to appear in Washington D.C., Chicago, and LA as well. As one of just two copy leads on the team at the time, I co-led copy development for web, email, social, print, banner, and video in support of the project. Our aim was to educate and empower Americans to pursue access to CBD as well as other natural forms of health.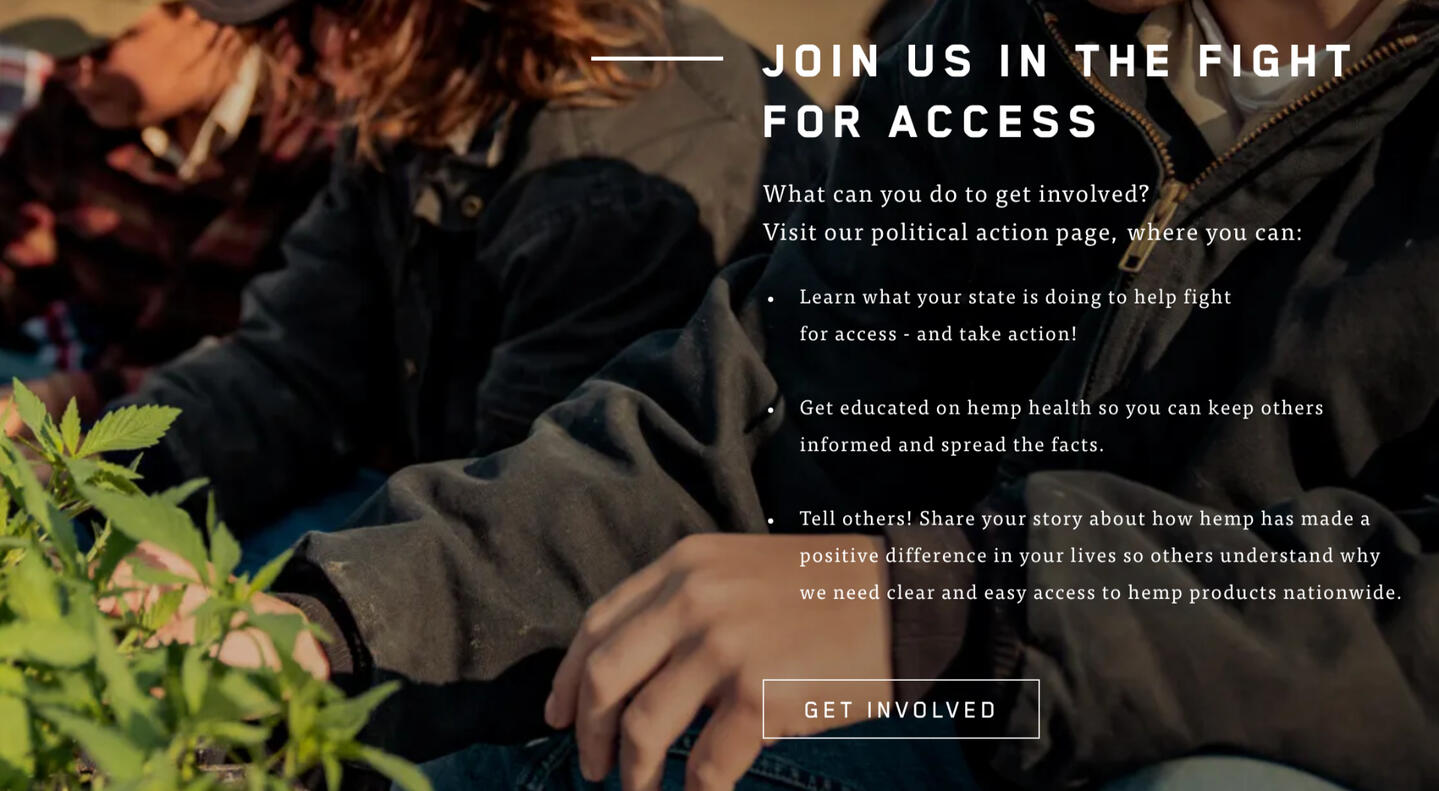 The response to the campaign was so great that by July 2020, we decided to go even bigger, mowing a 76-acre version of our mural into an actual wheat field in Kansas. Measuring 3,049,200 square feet (about 57 football fields), it could be seen by airplanes passing overhead. Coincidentally, this was also the only way our video team could capture it fully.
The campaign as a whole went on to garner over 750 million earned media impressions and win three Clio awards in the Cannabis category. Most importantly, it achieved our team's goal of spreading the message of hemp health far and wide.
Press mentions:

Forbes
AdWeek
High Times